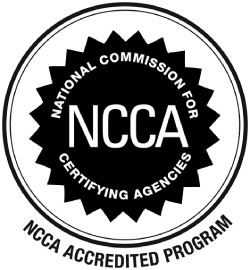 NCCA Accredited
STRENGTH TRAINING SPECIALIST CERTIFICATION PROGRAM (CSTS): This certification was designed to help certified personal trainers, strength coaches and other fitness professionals incorporate and instruct strength training into their field of expertise.
Prerequisites: Must be 18 years or older with a valid photo ID and valid CPR card.
Purpose:The purpose of the Certified Strength Training Specialist (CSTS) credential is to demonstrate that candidates have met established criteria for a Strength Training Specialist established by the NCCPT.
For more information go to the candidate handbook.
TRAINING PROGRAM: Strength is the major component of all movements and the foundation of all fitness. All fitness goals, specifically sports or performance start with the person's strength and their ability to apply it. Due to the content of this course, a four-year degree in a health and fitness and/or a personal trainer certification, although not required, is recommended.
This program was created by Tom DeLong, MA, RSCC*D, CSCS*D, who is the Director of Science Education for the National Council for Certified Personal Trainers (NCCPT) and the United States Powerlifting Association (USPA). He is a 35+ year veteran of the Strength and Conditioning/Personal Training industry holding a Master's degree in Kinesiology from California State University of Long Beach (specializing in biomechanics of resistance training and program design) and a Bachelor's degree in Exercise Science and Wellness from Ball State University.
As a competitor, Tom was a multiple state champion and a Master's World Bench Champion (USPA).