NCCPT Exam Only
Take the NCCPT Certified Personal Trainer Exam with no preparatory assistance. No other purchase is necessary. The only prerequisite to taking the NCCPT CPT Exam is that you must be at least 18 years of age and have a valid CPR card.
The Educational Division of the NCCPT has developed study materials to help the student prepare for the exam however, purchasing or studying these materials is not a requirement to sit for the exam. In addition we have provided a list of additional resources to help students prepare for the exam.
Instructions will be emailed instantly after purchasing the NCCPT exam. Note: Exam must be taken within 6 months from the date of purchase at a PSI Facility, a six month extension is available. Personal trainer certification course can not be extended past a year from the date of purchase.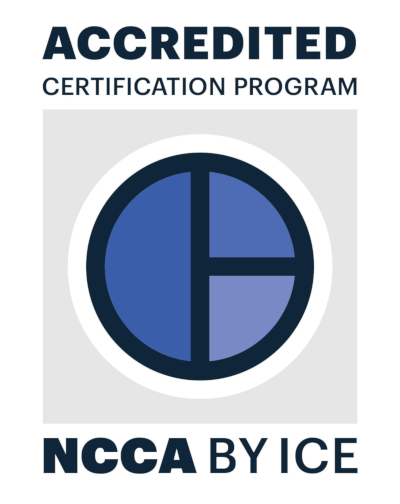 On May 27, 2016, the National Commission for Certifying Agencies (NCCA) granted [re]accreditation to the National Council for Certified Personal Trainers for demonstrating compliance with the NCCA Standards for the Accreditation of Certification Programs. NCCA is the accrediting body of the Institute for Credentialing Excellence. The NCCA Standards were created in 1977 and updated in 2003 to ensure certification programs adhere to modern standards of practice for the certification industry. The National Council for Certified Personal Trainers joins an elite group of more than 120 organizations representing over 270 programs that have received and maintained NCCA accreditation. More information on the NCCA is available online here.
What is included in the package?
**One (1) exam voucher - Students are allowed up to 6 months from purchase date to attempt the final exam.
For more information go to the candidate handbook.