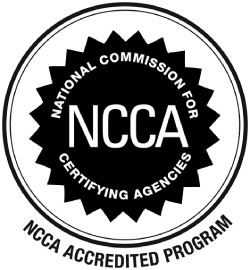 Certified Indoor Cycling Instructor - Exam Only
The Indoor Cycling Instructor Certification created by real cyclists! If you're passionate about cycling and like to help others, this is the course for you!
Take the NCCPT Certified Indoor Cycling Instructor Exam with no preparatory assistance. No other purchase is necessary. The only prerequisite to taking the exam is that you must be at least 18 years of age and have a valid CPR card.
The Educational Division of the NCCPT has developed study materials to help the student prepare for the exam however, purchasing or studying these materials is not a requirement to sit for the exam. In addition we have provided a list of additional resources to help students prepare for the exam. Open Resources.
---
This is an entry level certification for students to safely and effectively teach indoor cycling in a class format or one-on-one training.
Prerequisites: Must be 18 years or older with a valid photo ID and valid CPR card.
Purpose:The purpose of the Indoor Cycling (CICI) credential is to demonstrate that candidates have met established criteria for indoor cycling instructors established by the NCCPT.
For more information go to the candidate handbook.
---
Exam must be taken within 6 months from the date of purchase, a six month extension is available.
What is included in the package?
For more information, please visit the About the Exams page on our website.