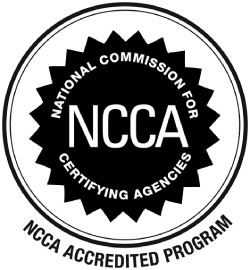 Certified Strength Training Specialist Online Study Package
If you are ready to inspire others to get off the couch and get healthy, then it's time to take your first step to becoming a Certified Strength Training Specialist. Due to the content of this course, a four-year degree in a health and fitness-related field and/or a personal trainer certification, although not required, is recommended.
What is included in the package?
Exam Voucher (NCCA Accredited exam administration)
Online access to the Certified Strength Training Specialist Manual.
Instructional online video content.
For more information on the exam, please view the About the Exam page on our website.
---
This certification is designed to help certified personal trainers, strength coaches and other fitness professionals incorporate and instruct strength training into their field of expertise.
Prerequisites: Must be 18 years or older with a valid photo ID and valid CPR card.
Purpose:The purpose of the Strength Training Specialist (CSTS) credential is to demonstrate that candidates have met established criteria for a Strength Training Specialist established by the NCCPT.
For more information go to the candidate handbook.