NCCPT Online Premium Study Materials
If you are ready to inspire others to get off the couch and get healthy, then it's time to take your first step to becoming a certified personal trainer.
The NCCPT personal training certification was built around the idea that with the right education, fitness professionals can inspire change using every resource within their reach and not be confined to any "one" system of training. Our education provides you with the knowledge, skills and abilities to create change with every client you meet, using science as your method and NCCPT as your guide.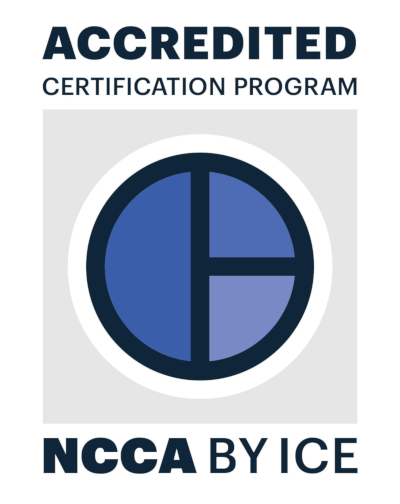 On May 27, 2016, the National Commission for Certifying Agencies (NCCA) granted [re]accreditation to the National Council for Certified Personal Trainers for demonstrating compliance with the NCCA Standards for the Accreditation of Certification Programs. NCCA is the accrediting body of the Institute for Credentialing Excellence. The NCCA Standards were created in 1977 and updated in 2003 to ensure certification programs adhere to modern standards of practice for the certification industry. The National Council for Certified Personal Trainers joins an elite group of more than 120 organizations representing over 270 programs that have received and maintained NCCA accreditation. More information on the NCCA is available online here.
What is included in the package?
**One (1) exam voucher - Students are allowed up to 6 months from purchase date to attempt the final exam.
NCCPT's "Power of Personal Training" Manual that will teach you everything from Nutrition and Exercise Physiology, to how to sell yourself to clients.
Instructional online videos that allow you to see the exercises performed and explained, using equipment you will find in most gyms.
NCCPT Study Guide - Digital copy PDF ($25 value)
NCCPT Sample Test - Digital copy PDF ($25 value)
For more information go to the candidate handbook.