We like to think of ourselves as a conduit of information for the Personal Trainer. We like to encourage our students to obtain as much education as they can over the course of their personal trainer career path. The more education you seek the better knowledge you have to pass on to your clients. More importantly, our Career Advisors are readily available to answer your questions, concerns and help guide you before, during and after you pass your exam.
Any person wishing to start a career as a fitness professional or anyone wanting to learn more about the industry.
On May 27, 2016, the National Commission for Certifying Agencies (NCCA) granted [re]accreditation to the National Council for Certified Personal Trainers for demonstrating compliance with the NCCA Standards for the Accreditation of Certification Programs. NCCA is the accrediting body of the Institute for Credentialing Excellence. The NCCA Standards were created in 1977 and updated in 2003 to ensure certification programs adhere to modern standards of practice for the certification industry. The National Council for Certified Personal Trainers joins an elite group of more than 120 organizations representing over 270 programs that have received and maintained NCCA accreditation. More information on the NCCA is available online at www.credentialingexcellence.org/NCCA or by calling 202-367-1165.
The NCCPT is accepted and recognized in major health club chains such as: LA Fitness, 24 Hour Fitness, Gold's Gym, World's Gym, Equinox, Crunch and Bally's.
The NCCPT Certified Personal Trainer Credential (CPT) is accredited through the European Register of Exercise Professionals (EREPS) as a Personal Trainer – EQFL4. Launched in 2007, the European Register of Exercise Professionals (EREPS) is an independent register of instructors, trainers and teachers working in the European health, fitness and physical activity sector.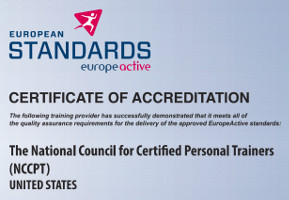 EREPS recognizes the qualifications and skills of exercise professionals and is an important assurance for the public and employers that their instructor or employee holds the appropriate qualifications to perform their role safely and effectively.
The EREPS Program:
Provides an independent registration process (sometimes called a "license to practice") for exercise professionals across Europe which is clearly understandable for operators and consumers;
Provides a public register with members published on a website directory;
Requires member adherence to an EREPS Code of Ethical Practice defining the rights, responsibilities and principles of being an exercise professional;
Supports the professional needs of its members in the interests of professionalizing the European fitness sector.
There are now EREPS registered fitness professionals working in 32 different European countries. Through its application of common European standards EREPS facilitates mobility of employment with 10% of members changing country each year, mainly for employment reasons.
In addition, the Boy Scouts of America Explorer Program and the National Council for Certified Personal Trainers have reached a collaboration agreement to offer the education and information from the NCCPT's nationally accredited Certified Personal Trainer program to the Exploring organization.

Exploring began as a senior program in early Boy Scout Troops and now serves as an affiliate of the Boy Scouts of America. The program serves Explorer clubs (youths in 6th-8th grades) and Explorer Posts (young men and women 14-20 years old). Exploring introduces youth to a variety of career fields.
The Exploring/NCCPT collaboration provides significant steps to help young people learn about their health and pursue a career in health and fitness as a NCCPT Certified Personal Trainer.
The NCCPT is a full affiliate of the NBFE. The National Board of Fitness Examiners (NBFE) is modeled after the National Board of Medical Examiners. The NBFE has worked extensively to complete an exhaustive analysis of the practice domain of personal fitness trainers. This "domain analysis" identified seven major testing areas and sixteen measurable test objectives for examination. The purpose of the curriculum review associated with the affiliation application process is to ensure that graduates of all NBFE Certification Organization Affiliate Personal Trainer programs are prepared to take the NBFE examination in each of the testing areas and objectives. The NBFE has reviewed the NCCPT's curriculum for validity and accuracy. The NCCPT scored a 97% out of 100% in meeting the standards for the NBFE.
When you are certified through most organizations, there is an expiration date. The NCCPT Personal Trainer certification adheres to industry standard of two years. In order to maintain most certifications you must acquire continuing education credits (CECs) or continuing education units (CEUs). However, if a person is not already certified, they cannot acquire credits for something they don't already have. Being certified through the NCCPT does not certify one through these other organizations. To re-accredit a NCCPT CPT certification one must show proof of completion of twenty hours of health & fitness related seminars or workshops during their certification period. We must receive this proof along with a copy of their original certificate prior to the expiration date on their certificate. There is a small fee to renew the certification. A current CPR card is also required.
Your materials will be accessible via the email used to register with the NCCPT.
To take your NCCPT Certified Personal Trainer Exam call PSI/LaserGrade at (800) 211-2754.
To schedule all other exams (Yoga, Group Exercise, Fitness Trainer, Indoor Cycling, Weight Management, Kickboxing, Certificate of Personal Training) visit passmyexam.net.
You have six months from the date that you purchased the exam. If you purchased through an online promotional company, you have six months from the date that you registered at nccpt.com
Exams are designed to verify the student as a competent, fitness professional. As such, it is comprehensive, but fair. Each exam is made up of multiple-choice questions, diagrams and in some cases, video, based on the learning objectives and the content of the program. However, students may actually study non-NCCPT materials to pass the exam by reading and studying from other resources sited on our website.
More than half of the students who attempt an exam pass on their first attempt.
By delivering the education in digital format, we are able to offer our education at an affordable price. We keep hard copies on hand, should you choose to purchase them.
To prepare for the Certified Personal Trainer Exam, a candidate generally needs to invest about 80-100 hours of study. Generally, candidates spread this out over a few months, depending on their background, experience, and available time.
We are accepted at LA Fitness, Gold's Gym, Equinox Fitness, Snap Fitness as well as many other large and small fitness chains.
Yes, we have many Canadian Personal Trainers who have been certified through the NCCPT.
The NCCPT recommends that you adequately prepare before attempting your exam the first time, however, you are not required to purchase any study materials. With the exception of the "Exam Only Package" all courses come with additional study materials. The NCCPT offers a manual, study guide, sample test, video content and readiness quizzes. These are not required in order to take the exam. You may also find a list of additional resources as an option to prepare for the exam. These open resources may be found by clicking here.
A Study Guide will help you learn and retain all of the key topics in the NCCPT study materials. A Sample Test will help you assess your knowledge of the content prior to taking the exam; however, you will not be given the exact questions that are on the exam.
If you are taking the NCCPT Certified Personal Trainer Exam, you must go to a PSI testing facility, and you will not need a webcam. For all other exams, the webcam and audio are both necessary tools for the exam meeting. In order to protect the integrity of the exam, the Proctor makes sure that no study aids, material or people are around or near you. For this reason, the proctor will physically oversee you taking the exam.
Exam appointment times book quickly. We suggest that you book at least one month prior to your desired exam date.
Follow the directions you received, which would include creating a free account at NCCPT, entering your personal information and Redemption Code. Immediately after creating your account, you should receive an email from NCCPT with a link to our study materials.
No, all NCCPT exams are closed book.
Log in to your account and select My Courses to access your online study materials. Send us an email and we'll check it for you.
NCCPT online documents are PDF files. You will need to use a PDF Reader, such as Adobe Acrobat Reader. Depending on the size of the PDF file and your internet connection speed, some downloads can take several minutes. The best course of action is to click the link and wait patiently for it to load before clicking again.
You can print a copy of the certificate for your certificate from your profile under, Member Dashboard. If you would like a hard copy mailed to you, you may purchase one. In order to purchase, your certificate must be valid (non-expired). Your purchased copy will be sent via first class mail to the address on file. We cannot fax or email copies of certificates. Click here to purchase: Certificate Copy.