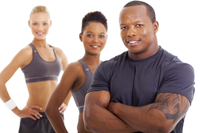 The NCCPT study materials are continuously updated based on a variety of research, peer-reviewed journals, government guidelines, a host of healthcare consultants and health and fitness organizations. Although science is a major component and the foundation of exercise science, we recognize fitness professionals will be dealing with people. People are not always the same, therefore to be successful, one must also learn the "art" of programming.
We believe health and fitness is like the three legs of a tripod: exercise, rest and nutrition. When programming exercise for a client, we believe it's important to consider these three factors. It doesn't matter how much exercise we intend to do, or in which stage of training the client is in; if they're exhausted or malnourished, performance and even health, will suffer. Therefore, the type of exercise, the amount of exercise and the acute variables of sets, reps, weights and rest periods are all dynamic, depending on each individual client.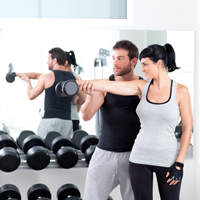 The NCCPT teaches programming specifics, not specific programming. It's based on scientific concepts not exact science.
Although in group exercise, health assessments are not normally feasible, we recommend Fitness Professionals to perform a thorough assessment to each of their clients prior to exercising. A Fitness Professional should always be "assessing."
Our programming is based on two main concepts: the concept of Periodization from Tudor Bompa and the concept of Specificity or the S.A.I.D. principle (Specific Adaptation to Imposed Demands). Both of these concepts are well-established in the industry and every major sport and rehabilitation program is based on these two main concepts.
Within the concept of Periodization there are macro cycles and micro cycles. The micro cycle is made up of the actual daily exercise routine. The NCCPT Fitness Professional is taught to consider four components when implementing an exercise program for any client at any juncture in their training.
Cardiovascular
Strength
Stabilization or Proprioception
Flexibility
These four components are like four legs of a table and must support the client's quest in their goals.
In summary, we provide the scientific concepts, assessment techniques and a thought process for Fitness Professionals to adequately make the best decisions regarding their client's health and fitness goals.